DOGS FOR SALE/NEW PICTURES AND VIDEOS COMING SOON
Recently Sold Dogs



Caesar/Sold

"Knight"  Ranger/SOLD

This good "Knight" is a young potential with excellent working blood line.  Good for police, sport or companion body guard.  Newly arrived and will be in training

Lazer/Sold

Lazer and Dillon

Shaq/Sold

Shaq is an import from Denmark, big bone, large head.  Shaq is son of  Vasco Du Val Des Hurlesvent, a French ring and Mondio ring German Shepherd . He will be used for our future breeding and sport.

Stripey/Sold

Excellent companion/watch dog for home and weekend sport

ICE T. / Sold

D Tec / Sold

Video   10/22/08

6 month old male out of Agent Zero & Cheri.  Will be raised, trained and socialized.  Good candidate for sport or home protection.

IKRO – Sold

Kooba/Sold

3 month and half male out of Ikro & Luna.  Will be raised, trained and socialized.  Good candidate for sport or home protection.

Solo/Sold

3 month and half male out of Ikro & Luna. Will be raised, trained and socialized.  Good candidate for sport or home protection.

SOLD

Crash aka "Captain Crash"


Exi

8 month old Czeck import.   Young prospect for sport, police or body guard

Cando vom Salztal-Hohe


SOLD

Haja – SOLD

Haja is sold to Orlando Magic's superstar

Dwight Howard

Ulk

M.J./Sold

T Bone

T bone is the son of BACHUS DRACHENHERZ a national champion and also was a two time US representative in the world championships.  The mother is a SCH-1 Czech lines

Agent Zero/Sold

Leona/Sold

Agent Zero & Cheri pick solid black female. 

Kyra/Sold

Owned by Sydney Davis

Natz/Sold

20 month old German import, excellent dog for Police or Sport. 




Cherie / Sold




Pedigree
Cherie is our Hungarian import and one of our best producers ever.  We use her to teach our young decoys to catch dogs and also our home protector
Pink / Sold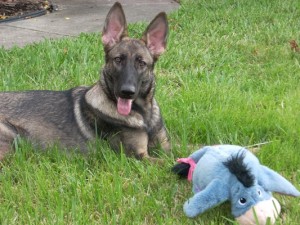 Video  11/08
Melano – Luna puppy from our breeding program. (born March 1, 2007) Bred in Germany and born in USA.  Pink is constantly being maintained and trained in three phases of the sport  tracking, obedience and protection.
Hero/Sold
3 month old male out of Agent Zero & Cheri.  Will be raised, trained and socialized.  Good candidate for sport or home protection.
Amie/Sold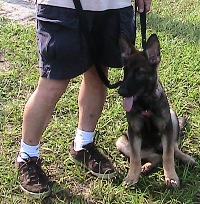 4 month old  female out of Ikro & Luna.
Iceman-SOLD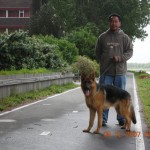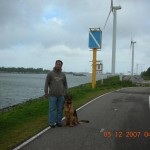 This is Iceman, a black and red  German Import. born June 21, 2006. son of Maestro Vom Osterberger-land Nice drives for sport and companion/guard. Started in bite work and obedience. Social to people and good alert to strangers coming to the home.
Mac – SOLD
Mac's new friend and family "Sebastian"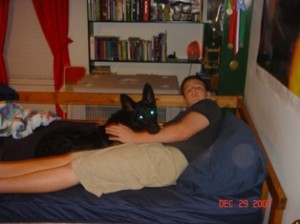 Fergie – SOLD
Fergie moved in with her brother Mac (above picture)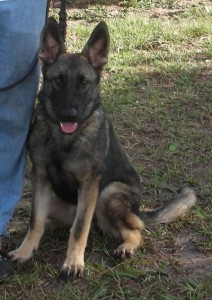 For our future sport and breeding.
She is a Cando and Cherie puppy.
Rezzo – SOLD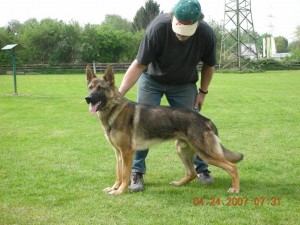 "Rezzo" is a young green dog from Germany (Pink Papers). He is social and good with people. He has been started in Obedience and Bitework. He is a very good prospect for home or sport and is also showing signs of being a good police prospect. He is in school right now for foundation training. Clear on hips and elbows.
Erni – SOLD
This is Erni, a Slovak papered import.
Excellent prospect for police, sport, or home.
Born February 11, 2006.  He has Czech papers. Very good retrieve drive and full grips.
Also has a nice natural aggression.
Hutch – SOLD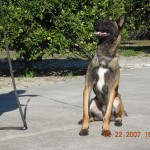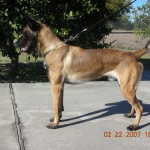 Hutch is excellent for police or sport. This 17 month old mali has intense ball drive and a natural retriever. His food drive is also very intense. He comes fast and hard in the long bite. He is not a handler fighter and takes correction well. Very up and focused obedience and very good nose in tracking. A good size mali and well proportioned. He has a Dutch pedigree with KNPV and FR lines.

Roni – SOLD
This is Roni, born February 11, 2006.  Medium size black and tan import from Slovakia, NO papers, microchiped. Good for sport, home protection.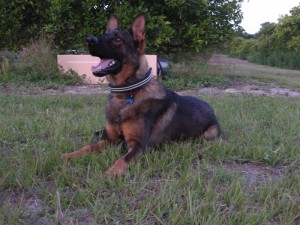 Kimbo – SOLD
This is "Kimbo", a beautiful 18 month old red sable import. He has very intense balldrive and is almost ready for the BH with a little polishing. Obedience title with a little more polishing. He is an ideal candidate for family protector and weekend sport.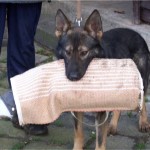 Qabo – SOLD

Qabo is now in the country. very good dog for sport or home protection. He is physically strong and is a social to people. he can be suspicious at strangers and yet a pleasant dog to be with.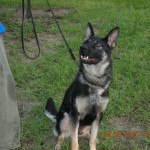 Dora – SOLD
This is Dora, a 2 year old female import from Germany. Excellent prospect for sport or companion/bodyguard. Hips and Elbows "A Normal" Dora is social to people, has a very good civil drive, comes in fairly fast in the long bite, ball driven and protective of the handler.
Benga – SOLD

"Benga" aka B.I.G., a young Hungarian for sport, police or home protection.  Born March 16, 2006, very strong food and ball drive.  He is currently being trained in obedience and bite work.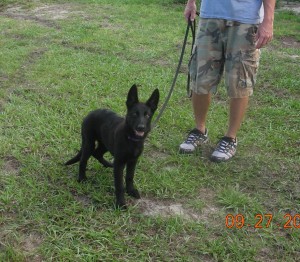 Rianah – SOLD
Born March 1, 2007 from our breeding program, Cando and Cherie female  puppy.  Excellent potential for work or home.
Amica – SOLD
This is "Amica", 18 months old, a very driven female. She's a medium size girl that has a lot of punch. excellent bloodlines for future breeding. Ball and bitedrive is very good. has a lot of good foundation. Would like for her to go to a sporting home, She can go far in the sport.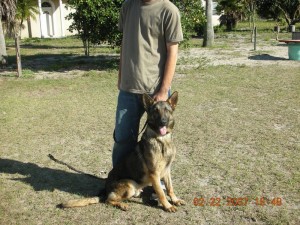 Potch – SOLD
This Hungarian import is born October 29, 2005.  He is excellent for police, sport or body guard. very up obedience.  He also bites full and has a very nice aggression.  Potch is a Nick  V Heiligenbosh grand son.