Testimonials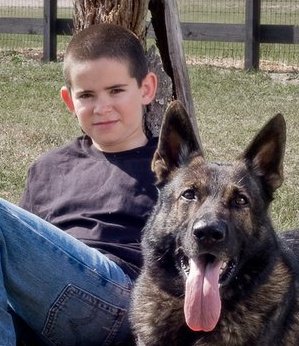 IKRO AND ETHAN
Dear Z & Ed,
Wanted to give you an updated picture of Ikro with Ethan and to tell you that both Ethan and I have really enjoyed Ikro for the past 5 years. He has been a great dog and we always feels safe with him around. He is always on guard, he loves to rough around with Ethan, he loves the girls Luna and Sage. He is always polite to others and most important he is always obedient. He is a joy to have around.
Thank you for selling him to me.
Maria & Ethan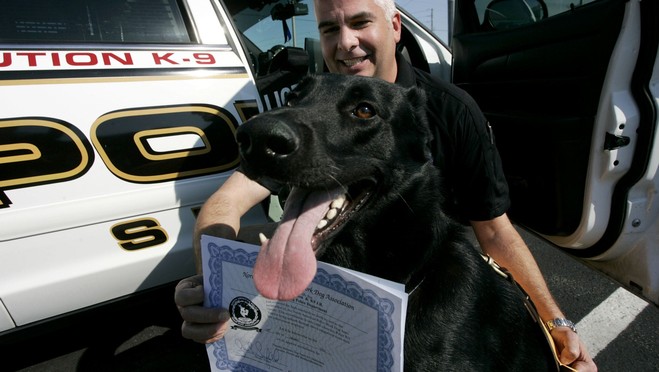 By JOE SEELIG
Highlands Today
Published: January 24, 2011
Updated: 01/24/2011 05:50 pm
Sebring police's K9 team passes drug certification
Ryan Pelham, Highlands Today Officer John Garrison of the Sebring Police Department K9 unit and his dog, 2-year-old German shepherd J.R., received a narcotics detector certification from the North American Police Work Dog Association about a month earlier than expected.ADVERTISEMENT
SEBRING – Illegal drug peddlers and drug users beware: the city of Sebring Police Department now has a K9 team narcotics certified by the North American Police Work Dog Association, which reportedly is the most difficult certification to get.
Sebring Police K9 Patrol Officer John Garrison and K9 partner J.R., a black German shepherd dog imported from Germany, recently received certification and training to alert to methamphetamine, heroin, marijuana and crack and powder cocaine.


J.R. received his official name in honor of Sebring Police Sgt. Jimmie R. Moore, who died in the line of duty in 1976 when his car tire blew out at or near the intersection of U.S. 27 and Howey Road, now known as Flare Road.
"We just got our narcotics certificate in the mail today," he said Monday. "We're definitely proud of it."
He may even alert to some newer drugs like Ecstasy.
If one of the ingredients that he mentioned above was inside, "which most them do, then he'll alert to it," he said.
He gave much of the credit to Kissimmee's head trainer, Joe Mata, and Ed Reyes, of Ed Reyes K9 Training & Imports, located in Chuluota, from whom the city bought J.R.
The narcotics training was supplied free of cost by the Kissimmee Police Department, said Garrison. The tracking, search and rescue as well as apprehension training he is currently receiving in Chuluota is not free of cost, however.
"Good things come in small packages," Garrison said, when asked about the dog's lighter weight of 75 pounds.
He said in search-and-rescue work it makes it easier for him to lift the lighter dog. Also J.R. can get into tighter spaces, he said.
With the help of the public, the police raised about $25,000 toward the cost of the dog and training Garrison for the job.
Next, he hopes to find some funding to get a bullet-and-knife-proof vest for J.R.
Garrison, his wife, Joy, and daughter Savannah, moved to Sebring from South Carolina in late 2006, where he had worked as a corrections officer. In 2007 he was sponsored by the Sebring Police to attend the SFCC Public Safety Academy.
He was very grateful to his wife and daughter who supported him because he's been away from home a lot. Joy, 13, has even taken up dog training herself through the 4-H Club, with her German shepherd, named Legend.
He explained some of the training.
"They set up multiple vehicles and some of them have narcotics and some of them don't have narcotics," Garrison said. "You run through and you may go through on a blank car and you have to call 'This car's clean;' then you go to the next one; 'He's alerting.'"
There is a readable physical action the dog makes when he alerts that the handler knows.
"Once he has an alert and I can see where the odor's coming from I call it," he continued. "The test proctor says 'Yes' or 'No' and then I have the opportunity to probe inside the car and give him the command to find drugs."
"It can be really anywhere, but you have to be able to pinpoint exactly where it is," he said.
He and J.R. have to be ready for the real world where drug smugglers and dealers get very creative hiding the illegal narcotics.
"They do it everywhere," he said. "They actually put it in gas tanks where they have to stop more often to get gas, but the actual gas tank will be full of narcotics… If it's able to conceal narcotics he's able to smell it out."
Police Chief Tom Dettman was proud of Garrison when he read a brief e-mail last week to the city council announcing he and J.R., passed their training ahead of schedule.
Garrison and J.R. passed the test with 100 percent, he said. They had nine vehicle hides, four open area hides in fields and that, and four building searches.
"Didn't miss one; not one false alert," Dettman said proudly. "We've got a good dog on our hands, folks."
Garrison was in the process of trying to get Florida Department of Law Enforcement training early, which will save the taxpayers money for hotels and per diem and he'll be hitting the streets sooner than expected.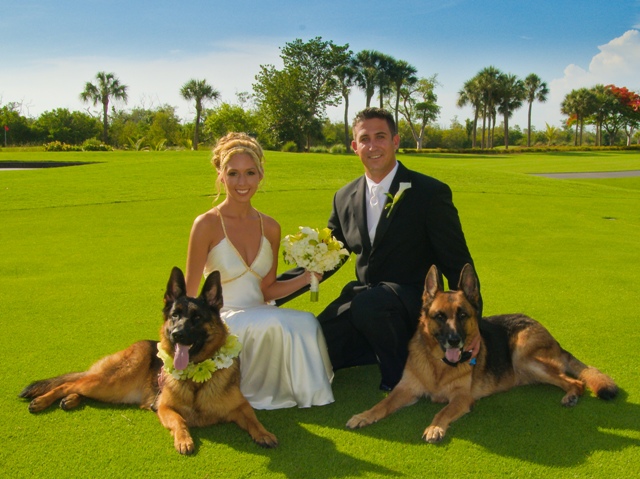 Ashley & Alex and Layla & Kobe
Ed & Z,
We have known you guys for nearly 2 years now, ever since we were looking for a second dog. When our new little addition started to misbehave, we knew exactly where to bring her for training! Layla has been attending Sunday classes ever since she was 8 months old. She went from an obnoxious out of control puppy, to a promising schutzhund prospect!
Whether we are walking our dogs in public or playing at the park, we continually receive compliments on how beautiful and well behaved they are. That we owe to you! Your training methods are effective and easy to understand. You not only trained our dogs, but you trained us too! Thank you! Ashley & Alex (and Layla & Kobe)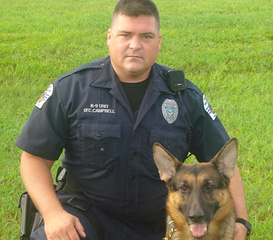 K9 Razor, one of Ed's dogs
Ed, Just wanted to pass this on to you. I made Police Officer of the Year for the State of Florida! Razor was a big Help!!!!
http://www.myfoxorlando.com/dpp/news/brevard_news/050609_West_Melbourne_cop_takes_honors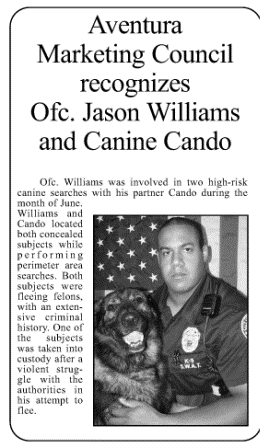 K9 Cando one of Ed's dogs
Hey Ed, It's Jason with Aventura Police. I just wanted to let you know Cando received his first officer of the month for June of 2008. He is doing very well and everyone is glad we were able to get him. So Far he has 4 apprehensions with 2 bites, 3 narcotics finds with each one getting larger in quantity. The last narcotic find also had a gun hidden with it. If you go to "Aventura News Online Edition", scroll down and go to page 4 you will see the write up on us. I just wanted to thank you because Cando is the greatest partner/friend/family member.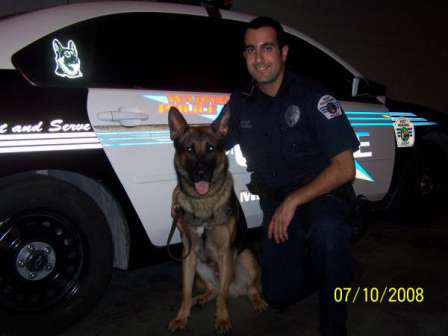 K9 Rezzo one of Ed Reyes' dogs
Greetings Ed, Just an update on Rezzo….
he caught a burglar last night and got apprehension number four already.
Everybody has been really pleased with what he has been able to accomplish.
Take care!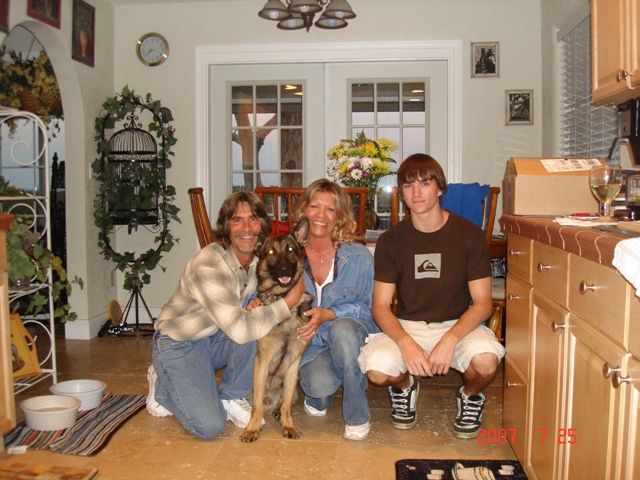 Poche and his family
Ed,
We are having such a wonderful time bonding with Poche.
He is very protective of Joseph already. Poche has vacuumed and
mopped the floors with me today and we played with the water hose.
He is such a blessing to us!
Thank You, Shayna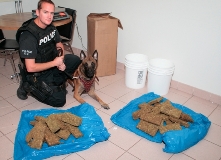 K9 BOSS, one of Ed's dogs
Officer Ryan Schimpeno and Boss,
one of our Malinois imports,
found 8lbs. of marijuana.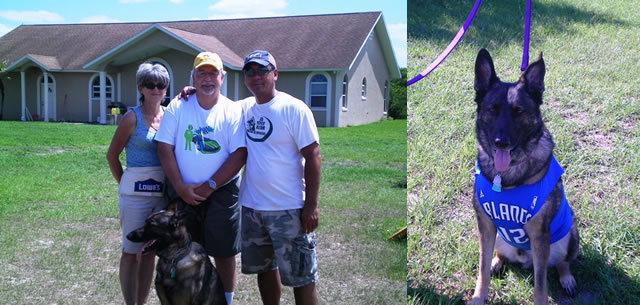 GO MAGIC "JAKE" loves to watch the magic game
To Ed Reyes and Staff:
Thank you so much for sharing your knowledge and expertise with Steve and I. Because of what you have taught us we have been able to fully enjoy our German shepherd dog Jake. In our eyes you are a Miracle Worker. You were able to turn an adult dog that for his entire life was "socially challenged" and "overly protective" into an obedient, calm and sweet social butterfly. We are now able to take him out into the neighborhood for walks and to have people into our home without fear. We now enjoy daily walks passing calmly by people without Jake giving them a second look. We have encountered several dogs, some in their fenced yards and some on the loose. Because of the training you have given him and the signs you have taught us to look for, we are in complete control and there is never a confrontation. Many of the people that we have passed have complemented us on how well trained and disciplined he is.
Your training methods are to be highly praised It has been very beneficial to us to have you first demonstrate to us what is expected and then you calmly and patiently watch as we attempt to do it until we too are successful. We are able to be stern in showing Jake what we expect without ever being mean or harsh.
Jake looks forward to each weekly session just as much as we do. He gets very excited and can't wait to get into the truck. The closer we get the more verbal he gets.
Thank you for everything you have taught us.
Steve & Leilani Hall